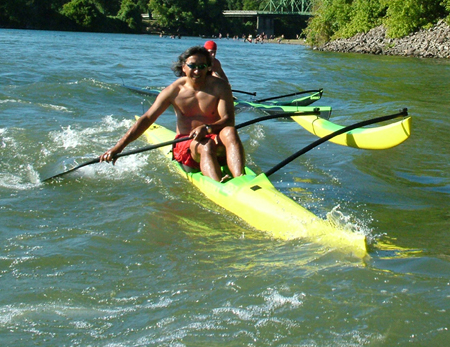 HUKI V1-Z (OC-1):

The V1-Z is one of our latest OC-1 designs introduced in July of 2004. The "Z" is our first OC-1 to be conceived with the aid of a computer. Designed and developed by Jerry Montgomery, with input from myself as director, we developed her from Jerry's CAD drawing and calculations. Jerry shaped the first plug and built various prototypes until we came up with the production "Z". We wanted a canoe that was much more versatile than our previous V1-A and STEALTH, for a wider range of water conditions and paddler heights & weights. We wanted her to be our fastest canoe on flat water without sacrificing the big water abilities. She's shorter than our V1-B and less bulky than our V1-A. She's super stable to keep up with current surfing and racing techniques used by the talented crowd in outrigger sport. We applied everything we've learned through all of our design and development years together. The result is a TOTALLY new and dynamic hull design with a fantastically awesome cockpit fit and feel.

The "Z" has been tested in the wind chop for some time now, and comes through with flying amas! ...4 and 5 ft wind chop...NO PROBLEM! She'll carve face and connect waves with the best. We applied the same principle & concepts used to design our hugely successful S1-X surf ski...The result is a set of shapes that beat all our previous canoes in California style waters. She glides on flats faster than any of our previous designs and faster than anything we've raced against yet.

She has the most comfortable cockpit we've ever designed. Her low set footwells are better fitting and provide more balance control, allowing the legs to be used with less effort to keep the ama off the water, and to keep water out. The low set, deep dish seat is VERY comfortable and close to the water to allow a longer reach forward to lengthen the power zone of the stroke, and to provide fantastic stability and ama control.

The tip of her bow stem rises above her crown to prevent pearling in steep conditions without being too high. The first two feet of the stem sheds water quite fast, to keep water from traveling up the fore deck. She has a low profile from the side, to reduce windage and keep surface area and weight to a minimum.

Optimum weight (in comparison with my other canoes) would be very light paddlers and people up to 240 Lb. Really light paddlers and those under 200 pounds may find nothing faster in any water condition. She's simply unbelievable for paddlers under 190 pounds. Light paddlers under 165 will be able to handle Hawaiian style waters on their roughest day. Moderate sized paddlers between 165-200 pounds will easily handle 4ft wind chop and go zoom-zoom on flats. Paddlers above 200 pounds will race really fast in light to moderate conditions.

The aluminum "iako" (outrigger arms) attach to the main hull of the canoe via a receiving hole in the deck. They're fixed in place by depressing a "detent ball" on the side of the iako. The "ama" (outrigger pontoon) can be adjusted close or far from the main hull by depressing the detent, sliding the iako to the next position and allowing the next ball to pop into place. Adjustments to the pitch of the ama and stability of the canoe can be made by moving the mounting knob, up or down the threaded rod risers on the ama deck.

On the V1-Z, you can wear most sandals & booties, and we can install self bailing footwell drains and stow hatches. We can install bungees on the fore deck and aft deck or where ever you want them, and can place a kelp guard in front of the rudder. She has the HUKI adjustable response rudder system and can be rigged with the Moderate water or Extreme conditions ama, and large variety of rudders. We also have a very nice Custom Vinyl Canvas Cover with full length zippers.




Dimensions:
21' 10 " LOA, 13.85" BOA
21' 4 " LAW @ full speed, 12.8" BAW @ 190 Lb. paddler
20.5 Lb assembled main hull (Carbon/Kev)

Testimonies:

As I mentioned on the phone I have been around boats my entire life including sailboats, windsurfers, canoes, and rowing shells. I have found the Huki V1-Z outrigger single canoe to be the most efficient, maneuverable and seaworthy craft I have ever had the pleasure to own. The workmanship and design are perfect. Thank you for creating such a fantastic boat. I am quite sure many more Floridians and East Coast paddlers would feel the same way Thanks very much for making such a spectacular boat. I am really enjoying myself.
Best Wishes
Fred Southwick


---

Click on pictures to enlarge.