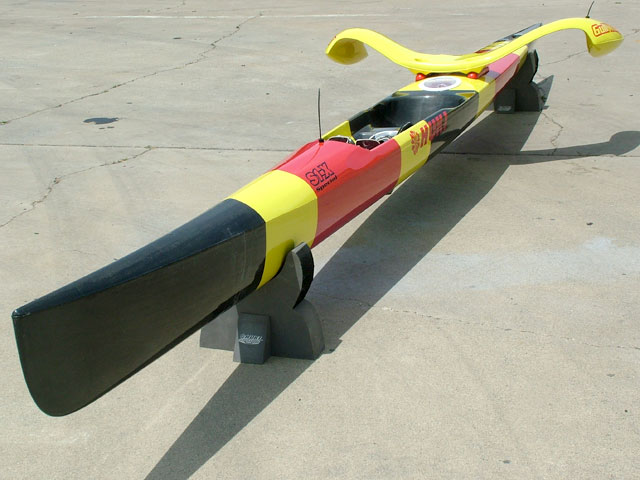 HUKI Gull Wing
Specialized bracing system for surfskis.

The Wing basically performs a brace "for you" every time you lean more than 22 degrees. The harder you lean, the stronger the brace, the lighter you lean, the lighter the brace. If you don't lean at all, the wings don't touch the water. The Wing is positioned out of the stroke zone so you don't hit it with your paddle, and still far enough forward so as not to prevent nose down surfing. If you find a way to turtle the ski, you simply press one wing tip under water until the boat rolls upright. The wings stabilize the boat to a significant degree while you remount. If you're talented enough not to lean too much to either side the tips might never touch the water unless seas are above 1ft. The aero dynamic design has little drag fore and aft, but does catch wind from the side. The thing about side wind and chop is that the wing has a huge effect in bracing for you to keep you up while you pull full power to move the surfski. Once you lean into the wind, the counter effect works quite well.

Over all, the Gull Wing makes it possible for a novice to head out on the tippiest and fastest surfski on his first day without falling in. It allows moderate level paddlers to go out into seas that they otherwise would never have gone out in. It allows paddlers who brace too much in rough seas, to keep on pulling hard without need of a single brace in rougher seas than they've ever paddled in before. It allows advanced paddlers to relax and bring a fishing pole or take a nap. The Gull Wing DOES NOT make you go faster. It makes it possible for you to go when you otherwise would not have tried to go.

The Gull Wing assembly is completely removable and remountable without any tools. You unscrew the four mounting thumb screws and lift the wing from your ski. Then plug off the four screw holes with small pieces of electrical tape or duct tape. You can then paddle the ski without the Gull Wing. Remounting the wing is as simple as reversing the steps.

Gull Wing Retrofit Kit

The Vac'd Carb Gull Wing is $800 for the Wing and Retro fit kit
The Vac'd Glass Gull Wing is $600 for the Wing and Retro fit kit

The crate is $150 and takes three days to make.
The shipping to a warehouse in your State will cost $200 and takes one week.

Instructions for retrofitting coming soon...

Testimonies:

Jude,
GULL WINGS = ANGEL WINGS
These are truly an experience. I can perfect my paddling without the stress of tipping over. The wings right you immediately! I am free to really look around and not be so focused on staying on. Just love the freedom it gives me on [my] S1A surfski!
Thanks for your innovation!!!!
Ann Stevenson

The "Gull-Wing" has drastically cut my learning curve by a large margin. It has allowed me to get out in some rougher stuff and practice without the fear of difficult re-mounting without help. I've been able to begin learning to surf some off shore swells as well. I can now run the boat without the wing on flat up to 2' - 3' mixed chop (which is still a challenge). My 14 year old daughter is now moving into this boat and hopes to be able to follow the dolphin down the coast at a much easier pace that the plastic sit-on-top she used to use. The "Gull-wing" makes that possible. There were a lot of people standing at the edge of the surf taking pictures of me in the boat (also all the life guards with their binoculars) as I was making a 15 mile run down the coast from inlet to inlet. I'm hoping to be able to save enough money to get an S1R w/Gull wing and adjustable pedalto use as a "Try-Out" boat with my friends. Most people have never seen any thing like this from my area.
Talk to you soon Jude...
Thank-You for all you have done for me.
Earl

Hi Jude,
I just wanted to drop you a line to say Thanks for the wonderful Gull Wing. I absolutely love it. I can paddle anywhere I want without worrying about the weather changing and being in over my head. I paddling my Huki surfski almost everyday and can't wait to get out there during the race season next year. Oh, I also love my S1-A. It's the perfect boat for me.
Darcy

Thanks Jude,
The Gull Wing works beyond my expectations as I've been out in crap that not even the sea gulls would venture out in.
Cheers
Wolf

Jude,
Thanks for putting me into the Gull Wing. This thing is fantastic--I love it! I'm having so much fun with it. I don't even worry about the weather conditions because I can paddle no matter what. I find myself even enjoying he wake boats that go by--no worries or fear of dumping over. I'm even faster on my time trial courses-- this thing really works for me.
Have a great day---Ty Hadley

Click on picture below to enlarge.