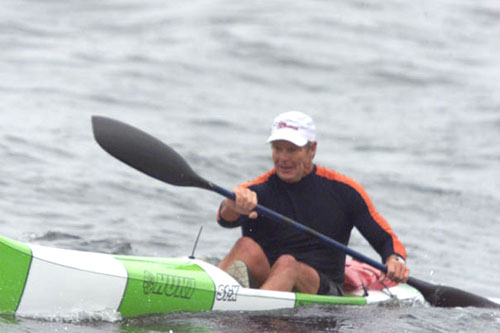 HUKI S1-X Unlimited Class Offshore Racer:

Newly developed during the summer of 2003 and introduced in October of the same year, the HUKI S1-X is the first surfski hull design by Jerry Montgomery, with some input from myself, Jude Turczynski. I wish I could take more credit for her than just being concept and detail director. She is brilliant. This surfski hull is our second commercial production shape to be designed with a computer.

The S1-X is meant to compete with popular top performers coming from South Africa, China and Hawaii and has led the world with new hull concepts that are now being copied and integrated by all our competitors. Her sleek narrow entry and exit will work with her long waterline to produce flat water speed. Her consistent rocker will ensure rough water performance. She can cut and hold a diagonal path across a wave better than any other. Her wide waterline at mid ship, deep seat and deep foot wells ensure that she will be very nicely stable when balance gets tough for others.

She's noticeably narrow at the paddle entry point just in front of the steering pedals, allowing for a close catch and longer pull in the power zone. Her primary stability is far beyond her competitors, being more stable than any other surfski that I've found with the same 17 inch beam. Her secondary stability is much better than most, when she's heeled "way over," you'll notice she's as stable as most 19 inchers.

I've spent a lot of time listening to you...
This is the surfski that everyone has been asking for. As fast as her best competitors in flat, stable in rough, surfs like crazy, agile steering, custom cockpits, strong, light and sexy looken too.

Her foot well system is unique. We offer single or individual foot-wells and can attach the steering cables to the pedals from the foot-well divider or from the gunwales, it's up to you. Our single foot well can save some weight in construction materials and will place the feet and knees close together for those people who're used to a tight body position. We have an adjustable foot well system so that people of different heights can use the same boat. We have a couple other foot-wells developed to fill the needs of customers with even greater custom requests. Each of our foot well systems places the heels of the feet directly on the bottom of the hull for maximum comfort and stability.

She has a standard size seat well that fits most people's hips and she is available with a "Wide Seat" option that fits everyone else. Many people over 6 feet 1 inch tall have larger hips than most smaller people. The optional Wide Seat is three-quarters of an inch wider without being longer or deeper.

Optimum weight; 140 to 240 Lb paddlers. We've found that she performs quite well for paddlers 165 to 215 pounds in the steep wind chop of Northern California and the wind driven swell of Maui's North Shore. Flat water isn't a drag on this surf ski either. Elite Lake and River racers widely choose the S1-X over any other surf ski or kayak at the "Eppie's Great Race" where HUKI often takes the first ten finishes over all.

On the S1-X, you can wear most sandals & booties, and we can install self bailing foot well drains. We can install bungees on the fore deck and aft deck, in the cockpit or where ever you want them, and can place stow hatches at both ends of the cockpit as well as under your knees where you can place your water system or other items on the keel for easy access while paddling and for maximum stability. She has the HUKI adjustable response rudder system and can be rigged with a kelp guard and a variety of several rudders. We can install a variety of custom items like; anchor blocks for things like foot straps, handles and hook loops, a sealed hole through the footwell divider for locking the surf ski, eye holes at bow and stern, etc.

Dimensions:
21' LOA, 17" BOA
20' 9 " LAW, 15.8" BAW @ 190 Lb. paddler, static
Weights include 4" rudder:
23.2 Lb (Vac'd Carb/Kev) "often 21.5 Lb"
24.7 Lb (Vac'd Carb/Carb)
25.5 Lb (Vac'd Carb/Glass) "Vac'd Carbon"
31.5 Lb (non-vac Carb/Glass) "Carbon"
33.5 Lb (Non-Vac'd Fiberglass) "Glass"
6" & 5" stow w/bag adds .75 Lb.... 4" adds .5 LB.
Printed Fabric inlays add between half a pound and three pounds, depending on size.
Carbon inlays don't add weight.
Other options may add several ounces

Testimonies:

---

Congratulations to Barry Franks for winning so many of Maui's big water races this year.

---

I finally was able to get in the water today on the new ski after a 3 day cold So, off I went. The conditions weren't great for setting any speed records, but I hit my first mile marker faster than I ever have. The rest of the 5 mile paddle I completed 2 minutes ahead of regular time despite shifty winds and swell/current moving in opposite directions, (doing a loop course, I never really got to go downwind). Anyway I was amazed. Brian Renner

---

Congratulations to Johan Dahl who powered the S1-X to finish FIRST-OVERALL at the 2003 SeaTrek regatta and finished THIRD-OVERALL at the Santa Cruz WaveChaser in very challenging conditions for a racer with limited Ocean experience.

---

Congratulations to Mike Shea, who powered the S1-X to finish FIRST-OVERALL at the 2003 WaveChaser Season opener at Half Moon Bay, and FIRST-OVERALL at the Santa Cruz WaveChaser as well. Mike said, the S1-X allows him to apply his energy and concentration on speed, rather than so much on balance and trying to stay upright. Jude

---

Congratulations to Dave Jensen who powered the HUKI S1-X to finish FIRST OVER-ALL at the 2004 WaveChaser Championship race, outside the Golden Gate in the roughest conditions of this year's racing. Dave borrowed an S1-X at the last minute before the race. After the race, he purchased his own!

---

Congratulations again to Dave Jensen, who powered the HUKI S1-X to finish SECOND at the 2004 Southern California Championships in 4-6 ft wind chop on blustery open seas.

"I'm loving it. I've been trying to determine if and how much faster it is than my [popular brand surf ski]....Results:
On rough water, there is no comparison. I did a 2 hour moderate training paddle the other day with a [popular brand] and [another popular brand]. We were matching each other stroke for stroke. I was daydreaming, realized I was alone, and had left the other guys far behind when we got into turbulent water. I went back to daydreaming.
On flat water, we race a set course every Wednesday. Normally you realistically can't tell if one boat is faster than another, but I have my times over the last 14 years. Statistically this boat is about 30 seconds faster over a 3.5-mile flat water course. Around 2%.
Mike Gregory just beat a group of very good paddlers on the Lake Whatcom Classic using my boat. (about a 12 mile course). That's phenomenal for him. Larry Bussinger PE

---

Having demo 'd the HUKI S1-X under many a novice paddler, the following story has become common. At the SeaTrek regatta, I had a recreational kayaker (24" wide plastic) try his very first attempt on a surfski of any kind, on my S1-X. He navigated the small harbor without falling off, and on his second loop around the harbor he figured out how to steer with the pedals. This fast ski is THAT stable. Jude

---

"I absolutely love my S1X- I used it in the [Lake] Natoma race this weekend and blew away my previous time. Thanks for making such a great product." Matthew Kurko.

---

" [T]he [S1-X] is a home run. My [old surf ski] is now for sale. I have been out in really big stuff with the boat and it tracks and maintains a straight line with no fear of stability being an issue. Get out your check book! " Scott Kelly

---

"The group of guys that I paddle with, even the [popular competitor's brand surf ski] owners have now all bought Huki S1-X's and they all really like them. The added stability over the [popular competitor's brand surf ski] seems to translate into more power into the forward stroke and greater confidence. We live and train in the Bay Area of Northern California and it seems like everyone that paddles a ski is now paddling a Huki S1-X." Craig Tanner

---

"I love my X. Best ski I've ever had in 30 years paddling. Had it out all winter in anything the gulf could dish out. And believe me, it gets big offshore here in the winter. Hardly ever dump except in some big shorebreak. Stay well." Andy Gerber

Click on picture below to enlarge.