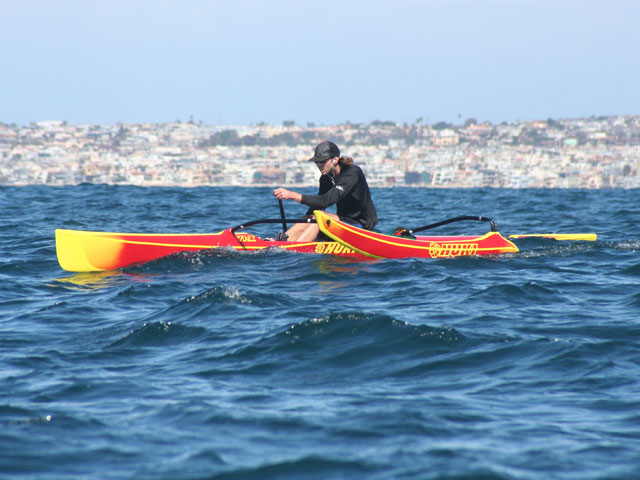 Huki V1-X totally redesigned for 2010 (OC-1):

The new V1-X was totally gone through with modifications to the cockpit, ama and Hull. We took some of the rocker out of the center of the hull (under the cockpit) to reduce drag and keep more of the tail volume close to the water where it can be used. Small paddlers will like this because it increases their waterline for more glide between strokes. Large people will like this because they can make use of more volume in rough water, with a similar glide between strokes. The main canoe is wider by half an inch at most locations and by an inch at the cockpit, which is another fine source of volume. We redesigned the footwells to have a more relaxed angle to the ankle and to allow more drive off the leg during the pull. The seat platform has been lowered by half an inch (25mm) to provide more stability and the gunwales raised to above the seat top to provide more control and support through the foam seat. The newly redesigned ama has a great deal more volume and we reduced the rocker to improve glide (reduce drag).

The Huki V1-X is the perfect all round racer. She is as short as most rough water canoes while maintaining a longer waterline than any other canoe of the same overall length. This allows her to glide between strokes more smoothly while still fitting into the same big waves. She does Flat Water better than any other sub 22ft canoe and does big water as well as sub 21ft canoes. She is small enough for 100 pound paddlers and big enough for 200 pound paddlers in 10ft seas. 230 pound paddlers will be able to use her in seas of less than 3 ft.

You can custom outfit your Huki with bungees in front of the steering pedals, in front of the seat (under the legs) or behind the seat. You can place a 5 inch hatch in front of the steering pedals or behind the seat. You can install a lock hole in the footwell divider, to which you can attach your leash or your GPS or just run a bicycle lock through the lock hole and secure the canoe to your roof top. You can choose from several different rudders that will cover every kind of water condition on Earth. We can place a kelp guard in front of the rudder to deflect weeds from catching between the rudder blade and the hull. We can install the Emergency Steering Device that was developed and invented here at Huki, that will allow you to steer with only one steering pedal, in case one steering cable breaks while at sea.

Every V1-X comes with self bailing cockpits through high vacuum venturies through the bottom of the hull. Each canoe comes with the adjustable response steering system and the stubby iako storage system that were both developed and invented at Huki. You get your choice of one rudder (excluding the kickup rudder) included in your purchase, and a velcro down foam seat comes standard.

Dimensions:
20' 10" LOA (Length Over All), 14.5" BOA (Beam Over All)
20' 3" LAW (Length At Waterline) @ full speed, 13" BAW for 190 LB paddler
20.5 LB assembled main hull (Vac'd Carb/Kev)

Testimonies:


Good Morning Jude,
Just wanted to let you know I took the new canoe out on the water in Monterey last week over Thanksgiving and holy smoke! What a fantastic ride! Seems like I only had to THINK about hopping on a swell or wake and it took off! Totally effortless to paddle and absolutely gorgeous! Couldn't be happier- thanks again.
Lesley


---

Hi Jude & David,
I ran into Heather (Santa Cruz?) loading up her brand new V1-X at Del Monte Beach on the way to the post office late on Wednesday to mail my [deposit].? Her Canoe looks beautiful and she reports a great ride!? Said she just had to think of catching a swell and she did ;0)
Cheers & Aloha, Sue


---

I received the canoe - and took it North to where I am storing it through the winter (bow oriented towards the water)... but not without first paddling it. I had it out Oct. 31st (it was 7oC, the water was colder). I was a bit worried about buying a boat without first paddling it... never done that before now. I love this canoe. By far my most enjoyable paddle... I'll be on it everyday next year. It looks great, feels great, very impressed with the construction.

Had it out on some marginally rough water (3-4 foot swells). Its going to take more practice but when I caught a wave just right I was flyin'... surfing this canoe was a blast. I want to get on it again before the temps drop below freezing... maybe this Sunday.

Again, thank you very much. It was a very good experience dealing with you.

Take Care R. Baker


---

The X paddles very nicely. I can?t wait to put some serious water under her. Your web page is spot on, It runs almost as well as the Z in glass, but the slightest bump?and way we go! The Ama pops easily with control and the leg wells (foot well isn?t a good adjective anymore) are awesome.

You improved significantly over the already comfortable Z. Well done.
Mahalo Nui Loa, Bill Gassett

Click on picture to enlarge.