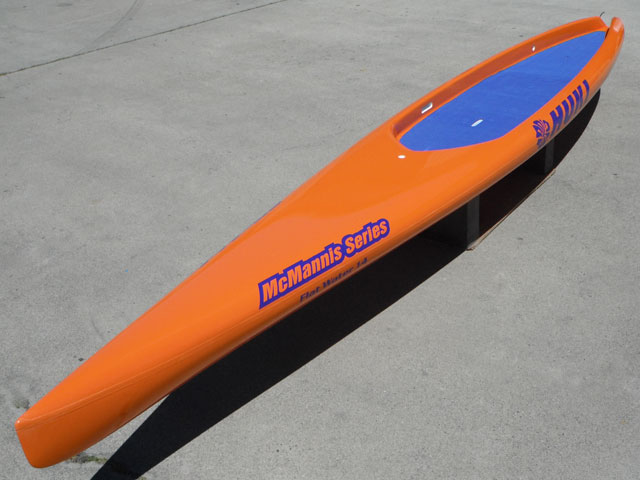 HUKI McMannis Series- Calm Conditions 14 - Stand Up Paddle Board (SUP)

Jude Turczynski and Craig McMannis have been collaborating on SUPs for years now. Craig provided the functional designs, prototypes, and board testing while Jude influenced the design with his outrigger and surfski experience. The collective goal was to produce a FAST & FUN SUP with specific attributes & features that serious racers could put to use.

The HUKI Calm Conditions 14 has a deeply recessed cockpit that allows you to stay up on this otherwise tippy SUP, and has a spill trough through the pin tail transom to empty any wash. The long water line combined with the round displacement hull being fairly non-rockered and coming to a rockered pin tail; all contribute to the boards speed in calm conditions. The HUKI Calm Conditions 14 is not a "walk in the park" with its round-surfski style displacement hull. When you paddle the HUKI Calm Conditions 14 for the first time you'll soon forget about using her in bumpy conditions until you develop some skill to take advantage of its sleek speedy shape underwater...But you WILL go VERY, VERY FAST on calm water.

This board will be comfortable under the feet of an experienced paddler with plenty of reserve performance and volume as your skills develop. You will not outgrow this board...EVER. Rivers, ocean, and windy conditions up the ante for your skills and this board is ready for the variety to go as far as you push it. The sweet spot for flat water is just in front of the carry handles. On the down hill run, she becomes more solid and hard to pearl. In cross chop, she has the volume to prevent bogging down in a wash over the deck, but will be a serious challenge. Going to weather is amazingly smooth, but she does roll if you become uncertain.

The HUKI 14 is no slouch on the race course either. Without help from mother nature you can maintain speeds never seen before on SUP's (on glass). Give yourself a tailwind the speeds are even faster.

The bottom line is the HUKI Calm Conditions 14 is a board you can paddle against others in the flats for a full advantage from technology.

The HUKI SUP is designed for performance just like all other HUKI watercraft. The board can accommodate a wide range of paddler weights ranging from low 100lbs up to 240lbs. She is a hollow, molded board, built in similar fashion as our surfskis and outrigger canoes. She comes standard in Epoxy Vacuumed Fiberglass with deck pad, a recessed handle and a recessed leash attachment in the cockpit floor, and your choice of either a 6 inch weedless or an 8.5 inch weedless fin. Common upgrades are Carbon cockpit, recessed side handles in the cockpit side walls, recessed side wall leash attachments, bungees on the fore deck. Some paddlers like a hatch on the fore deck and webbing handles at both ends.

Every board is custom built in California, in our own production factory.

Dimensions:
14' LOA (Length Over All), 26" BOA (Beam Over All), 6.5" thick
29.5 lbs (Epoxy Vac'd Glass)
27.9 lbs (Carbon cockpit upgrade)
25.8 lbs (Epoxy Vac'd Carb/Glass)

Testimonies:



Click on picture to enlarge.