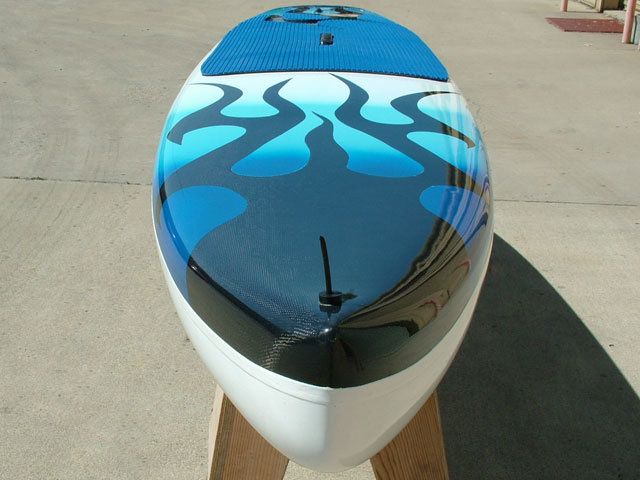 HUKI 14 Stand Up Paddle Board (SUP)

Jude and Craig McMannis have been collaborating on SUPs for nearly two years now. Craig provided the functional designs, prototypes, and board testing while Jude influenced the design with his outrigger and surfski experience. The collective goal was to produce a FUN, FORGIVING, and FAST SUP with this first release of the HUKI 14.

The long water line combined with a slightly rounded to flat bottom contribute to the boards stability and speed. In flat water the HUKI 14 is a "walk in the park" with its natural glide and stable nature. When you paddle the HUKI 14 for the first time you'll soon forget about balance and truly enjoy the experience of just being on the water. The vantage point from being high over the water makes for fantastic below water viewing. This board will be comfortable under the feet of a new paddler with plenty of reserve performance to challenge you as your skills develop. You will not outgrow this board quickly. Rivers, ocean, and windy conditions up the ante for your skills and this board is ready for the challenge. The sweet spot for flat water is just behind center and moves back as you begin to surf the wind chop

The HUKI 14 is no slouch on the race circuit either. Without help from mother nature you can maintain speeds in 5+ MPH range. Give yourself a tailwind the speeds climb over 7mph. Craig have proven this by placing in Tahoe Jam From The Dam (average over 5 mph over 6 miles), Sacramento River City Marathon (average over 7 mph over 13 miles), and the Delta Windsurf Series (average over 7 mph over 4 miles.)

The bottom line is the HUKI 14 is board you can paddle with confidence, handle in a variety of conditions, and enjoy for years to come.

The HUKI SUP is designed for performance just like all other HUKI watercraft. The board can accomidate a wide range of paddle weights ranging from mid 100lbs up to 240lbs.

Dimensions:
14' LOA (Length Over All), 29" BOA (Beam Over All)
27lbs board (Vinylester Vac'd Glass)
25lbs board (Vinylester Vac'd Carb/Kev)
23lbs board (Epoxy Vac'd Glass)
23lbs board (Epoxy Vac'd Carb/Glass)

Testimonies:



Click on picture to enlarge.